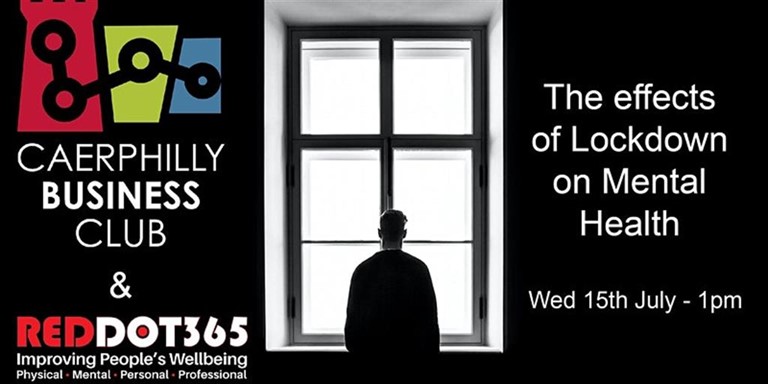 The Effects of Lockdown on Mental Health
The Effects of Lockdown on Mental Health – Why Creating a Wellbeing Culture is Fundamental to Organisations Long Term Success
Wed, 15 Jul 2020 13:00 – 14:30 BST
About this Event
The pandemic is clearly having a major social and psychological impact on the whole population, increasing unemployment, separating families, isolation, loneliness, finance, domestic abuse, and various other changes in the way that we live our lives. We also know that these lead to more towards major psychological risk factors for anxiety, depression, and self-harm, etc.
Employees will be returning to the place of work or may have been working through the pandemic as a key worker, every person will have been affected by the pandemic in one form or another.
John Williams from Red Dot 365 invites you to a webinar that look at how we create a wellbeing culture, we will be exploring the following.
The Social Contract
People want to Belong – More Than Just a Wage
Enlist, Empower and Encourage
A Common Wellbeing Story
Focus on What is Going Right – Data and Evidence are the Key Factors
Make it About Humanity – Open and Transparent Dialogue
Establish Trust
Independence – Protect Anonymity and Confidentiality
About Reddot 365…. John Williams is currently the CEO and co – founder of Red Dot 365. An organisation that approach mental health and wellbeing via evidence and people. The unique platform that has been purpose built for Mental Health and Wellbeing, uses cutting-edge technology and modern techniques around AI, machine learning, and data analysis, which enables dialogue and conversation to take place. The aim is to create a wellbeing culture within organisations that permeate every facet of the company from top to bottom. Our approach is to empower people and organisation to become the owners of the solutions that work for them, by providing the data and intelligence, measuring, and tracking impact as well as ROI. John has over 30 years' experience as an executive in FTSE 100 organisations, bringing that commercial edge and getting the right balance between social and commercial objectives.
This webinar is aimed at Business Owners, HR Professionals, Health & Well-Being Professionals and C-suite Executives who want to explore "The Effects of Lockdown on Mental Health – Why Creating a Wellbeing Culture is Fundamental to Organisations Long Term Success. If you are one of those employers that have been stretched by this pandemic and haven't been able to keep up with demand then we love to hear from you too with regards to the impacts on your employees.
Registration is required to join. Click Here to Register
If you have any questions in advance, please email your questions to:
j.williams@reddot365.co.uk
Reddot365 are a member of Caerphilly Business Club.